@catcallsofcapetown: 'They tell stories they've never told anyone before'
Sonke Gender Justice has launched a campaign for Women's Month to document and draw attention to gender-based violence.
In collaboration with @catcallsofcapetown, the initiative takes the form of collecting people's stories and chalking them down at the site of the incident, or close to it. The images are then posted on social media.
Sonke communications specialist Gadeeja Abbas explains that it's part of an international movement, sparked by Sophie Sandberg's @catcallsofnyc campaign.
She started the campaign when she was 15 years old as a response to being catcalled in the street all the time.

— Gadeeja Abbas, Communications specialist - Sonke Gender Justice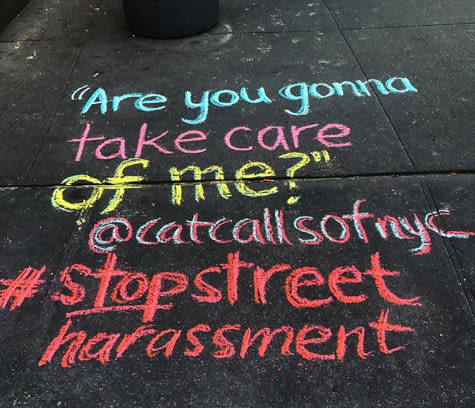 Abbas says the campaign is inclusive - not only because they're actively reaching out to people, but because they understand that gender-based violence is not limited to women.
We realise that there is a resource issue within South Africa and we decided to go out in to the streets and actually speak to people as opposed to people sending in their stories exclusively.

— Gadeeja Abbas, Communications specialist - Sonke Gender Justice
I've had incidents of men who came to me and said this also happened to me, but I didn't feel comfortable in speaking to another man about it, because of the kind of reaction that would come from them - they would laugh it off or they would call me these names.

— Gadeeja Abbas, communications specialist at Sonke Gender Justice
She says starting a conversation in this anonymous format, gives people the freedom to tell their stories, often for the very first time, which is a tool of empowerment.
A lot of them said that they felt a kind of emotional release and some even said it's the first time they've spoke to someone about the issue, which validates their feelings - sometimes these things happen to you and you feel you're going crazy or over-reacting and it gives you that reassurance since other women have experienced the same kind of thing.

— Gadeeja Abbas, Communications specialist - Sonke Gender Justice
The spectrum goes from someone who is just catcalled to somebody who has actually been abused or experienced rape.

— Gadeeja Abbas, Communications specialist - Sonke Gender Justice
For more about the campaign, click on the link below:
This article first appeared on CapeTalk : @catcallsofcapetown: 'They tell stories they've never told anyone before'