8 year-old author Lelo Mofokeng chats about his book 'How I survived Bullying'
An eight-year-old South African boy has written a book about bullying following his own struggles and torment.
Lelo Mofokeng would jot down his feelings and transcribe his experiences as a way to escape the experiences he had with bullies.
Mofokeng says that the only way he could deal with bullying was to write about it.
I wrote this book because I was bullied in grade 0 up until grade 1.

— Lelo Mofokeng, author
The bullying has stopped and I am still in the same school says Mofokeng. He adds that it's not difficult being in the same school as the person who bullied him.
I hope this book can help other children realise that they are not alone and that they can survive bullying.

— Lelo Mofokeng, author
Mofokeng says that the best way to deal with bullying is to talk about it.
Also read: How parents and schools can better prevent bullying
For book inquiries contact 082 830 0121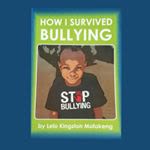 Taken from @LeloKingston Instagram page
Click on the link below to hear the full interview...
This article first appeared on 702 : 8 year-old author Lelo Mofokeng chats about his book 'How I survived Bullying'