Young black South Africans take future of community into their own hands
Many of South Africa's young people have the drive and ambition to succeed, but lack the opportunities and support to achieve this.
That's why IkamvaYouth, a local non-profit organisation, is helping young South Africans defeat the odds. Alex Smith, the organisation's Business Development Manager, says that IkamvaYouth's volunteer tutors (over 800 youth) show that young black South Africans are willing to take the future of their communities into their own hands.
In fact, the learners involved in the programme achieved an 84.7% pass rate - higher than the national average. Over the last 15 years, the programme also supported the vast majority of their beneficiaries to access employment or study opportunities. Since its inception in 2003, the organisation has maintained a pass rate of over 80%.
We have a track record of achieving excellent matric results (84.7% this year) and we also ensure thatlearners are placed. Last year we placed 87% in jobs, university or college after Grade 12. We achieve our excellent results because of our volunteer tutors, the majority of whom are young black South Africans, and many of them are previous beneficiaries of the programme.

— Alex Smith, Business Development Manager of IkamvaYouth
Tutoring programme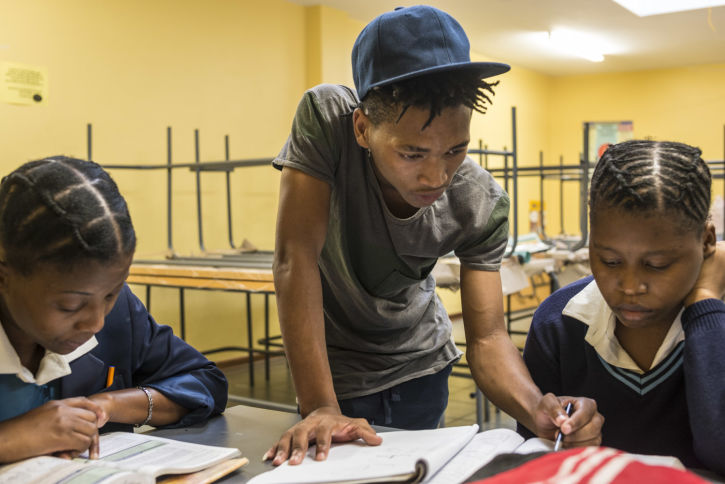 The organisation helps youth from disadvantaged communities by providing them with support, resources, tutoring and other tools to achieve success in education and employment. It currently has branches in 17 townships in five provinces.
The tutor programme is central to IkamaYouth's outreach, with former learners often becoming tutors themselves to pay-it-forward. The organisation says that this helps former learners enrolled in the programme become agents of change by transforming from beneficiaries to benefactors.
Co-founder, Joy Olivier, says that much of IkamvaYouth's success is thanks to these dedicated tutors.
There are really no words that fully express the admiration and appreciation that I have for IkamvaYouth's tutors, all of whom are volunteers and many of whom are previous learners of the IkamvaYouth programme. It is these inspiring individuals that are not only role modeling active citizenship, and showing our learners what's possible (many of them are studying at university), but it is thanks to their brilliant talents, hearts and minds that learners enrolled at IkamvaYouth have achieved incredible results.

— Joy Olivier, Co-founder of IkamvaYouth
The tutors themselves praise the programme for the difference it makes in their lives and the lives of others. The programme acts as a safe space for learners, where their tutors come from the same backgrounds and face the same challenges. For many students, the programme acts as a home and family.
IkamvaYouth provides learners with a safe space; a place where they can be themselves . It also provides them with the platform to improve academically by providing them with tutoring that is done by varsity students who share the same background and social challenges as them.

— Wendy Kondlo, IkamvaYouth tutor
IkamvaYouth tutoring offers a platform where is it okay to make mistakes and improve on weaknesses, instilling an "it's okay to not know" mentality so students can find it easy to ask for help when they're struggling. IkamvaYouth helps learners .realise their true potential by recognizing small improvements and excellence. Most of all IkamvaYouth is HOME to students who often come from difficult home environments, and when they enter the doors of IkamvaYouth they feel noticed and valued

— Wendy Kondlo, IkamvaYouth tutor
What other things does IkamvaYouth do?
Besides their tutoring programme, IkamvaYouth also runs other workshops and programmes with their learners.
One such project is their computer literacy programme, which helps equip youth with the digital skills they will need when entering the modern workplace. Along with skills for using the internet, learners are taught how to conduct research online, create professional CVs and letters, as well as typing and presentation skills.
Unlike many other mentoring organisations, IkamvaYouth also runs health workshops during its winter school programme which prioritizes HIV education and awareness.
Meanwhile, IkamvaYouth's career guidance programme includes field trips, educational workshops on topics such as financial aid, and visits to career indabas.
How can people get involved?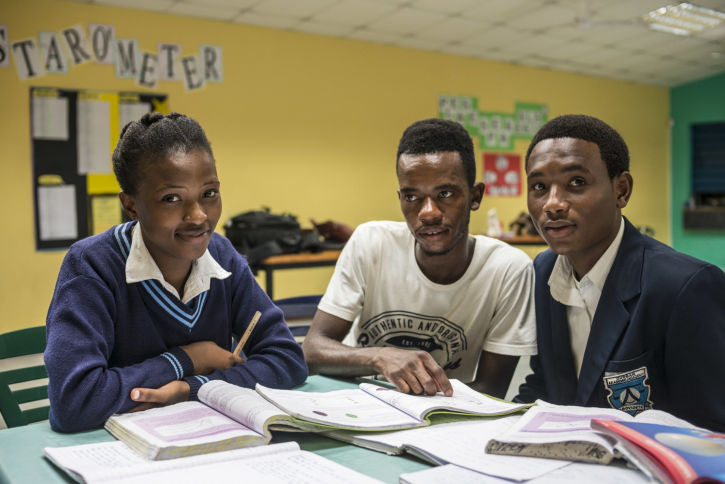 If you would like to get involved with IkamvaYouth and support their empowerment of underprivileged South Africans, you can do so in a variety of ways.
The first way is through volunteering. It's through volunteers that the organisation is able to facilitate tutoring, e-literacy teaching, and daily administrative tasks. With time being such a precious resource, the group welcomes people who want to donate their time and skills to the programme.
People can also make financial donations to IkamvaYouth. You can donate directly via EFT, their crowdfunding page or through a sponsorship. Visit the IkamvaYouth donation page for more information about the process. It is also possible for corporates to earn B-BBEE points by investing in IkamvaYouth under the skills development and social economic development aspects of the scorecard. For more information, please contact Alex Smith at alex@ikamvayouth.org.
Woolworths shoppers are also able to link their MySchool cards to IkamvaYouth, making them the beneficiary of donations accrued by using the card.
IkamvaYouth's work would not be possible without its donors who include: Coca Cola Bottling SA, the Capitec Foundation, ELMA Philanthropies, Omidyar Network and The Estee Lauder Charitable Aid Foundation as well as many others. IkamvaYouth needs more donors to sustain its great work so please do get in touch, the organisation says.
If you would like to follow the organisation's news and updates, make sure to follow the IkamvaYouth Facebook and Twitter accounts. You can also find more information about IkamvaYouth on their website.