How Philippa Johnson-Dwyer got back in the saddle despite disability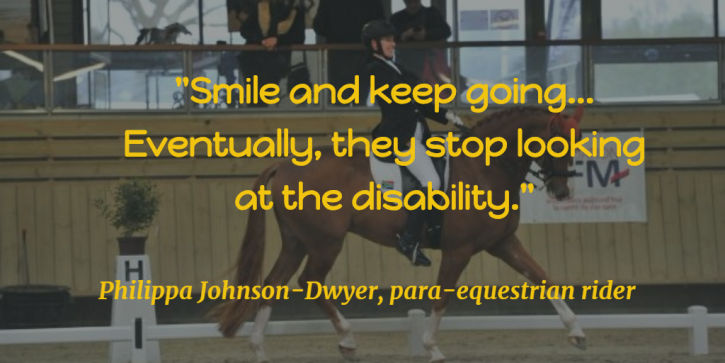 Para-equestrian dressage rider Philippa Johnson-Dwyer has had an impressive career on horseback, in spite of many obstacles she faced in her life.
The only thing you can do is smile and keep going... Eventually, they stop looking at the disability.

— Philippa Johnson-Dwyer, para-equestrian rider
The Paralympic gold medallist was left disabled after a car accident in 1998 but learned to ride again after a year of rehabilitation.
The 42-year-old says her passion for horses was destined because she was born into star-jumping family and her name means "lover of horses".
She says her formal riding career began when she was just four-years-old and she's never looked back.
Johnson-Dwyer advises that she always wanted to pursue a career in equestrian sports and knew in her preteens.
I always knew that my goal would be to represent my country in the Olympic Games.

— Philippa Johnson-Dwyer
It never once crossed my mind that I had to give up riding.

— Philippa Johnson-Dwyer, para-equestrian rider
When I was in the saddle I was completely safe, because that has always been my second home to me.

— Philippa Johnson-Dwyer, para-equestrian rider
In her twenties, however, Johnson-Dwyer was involved in a car accident with her fiance and brother who both were killed - changing the course of her horseriding career.
She was left with permanent disability and doctors told her she would never be able to ride again - but she did.
The accident still remains an open case to this day.. I was left without the use of my right arm and later got 60% use of my right leg back.

— Philippa Johnson-Dwyer, para-equestrian rider
She also overcame another incident in which she broke her back and has become a successful international para-equestrian rider.
Most recently, the para-equestrian rider represented South Africa at the Rio Paralympics in September 2016.
She spoke about her surreal experience at her first Paralympics in 2014 in Athens, Greece and the other international sporting events she has conquered with her 23-year-old horse, Benedict.
Take a listen to her moving story:
This article first appeared on CapeTalk : How Philippa Johnson-Dwyer got back in the saddle despite disability