LeadSA Twitter Takeover with Prof Mamokgethi Phakeng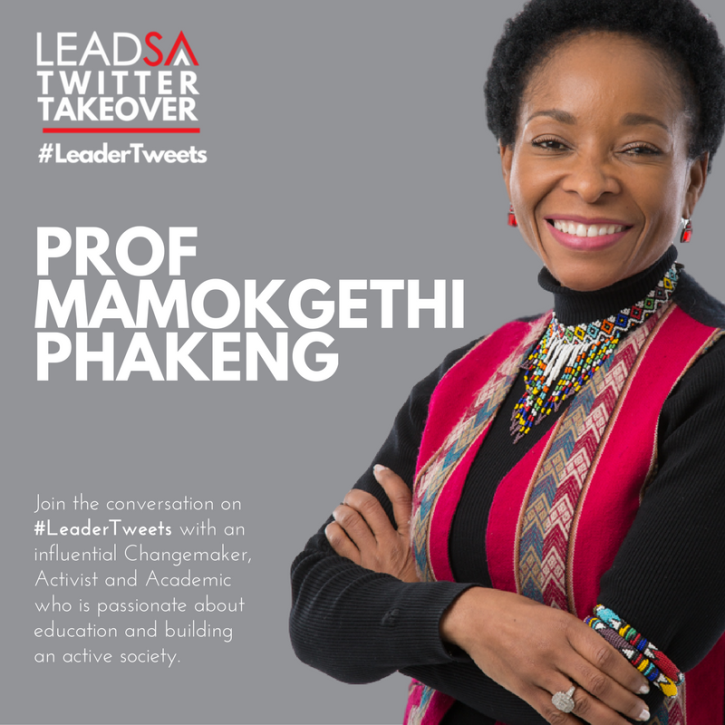 Lead SA will be hosting a series of Twitter Takeovers with prominent Changemakers in South Africa for the next month.
The idea is to inspire activism and spark discussion on issues that are important to our Changemakers in the Twittersphere.
Other changemakers who will be given the Twitter handle to provoke dialogue among 197 000 followers include activist Jay Naidoo, Corruption Watch's David Lewis and Lawson Naidoo from the Council for Advancement of South African Constitution (CASAC).
On Thursday, the Lead SA Twitter Takeover kicked off with education activist, Prof Mamokgethi Phakeng who is Deputy VC of Research and Internationalisation at UCT.
Professor Phakeng opened the discussion with the question: "Why is it that when people become successful they forget about where they come from and move on to greener pastures so to say?"
Initially, the conversation followed this theme but other topics included self-leadership, mentorship and decolonizing academics in South Africa.
Professor Phakeng ended her session with some food for thought: "My parting shot: Let's put the value back in the people & our communities & not in the material that we can accumulate #Leadertweets"
Catch up on the full Take over below:
#LeaderTweets Tweets
Follow the hashtag #LeaderTweets to join the conversation.