National Lead SA Heroes awarded at #ChangeMakers Conference
Lead SA hosted its annual #ChangeMakers Conference at the Century City Conference Centre in a bid to showcase and keep inspiring active citizenry in the country.
Delegates included big business, CSI directors, youth groups, NGOs and active citizens and they were treated to various speakers who shared their knowledge and personal journeys. The crowd of nearly 500 people left feeling both inspired and motivated.
Speakers were carefully selected to ensure that delegates walked away from the conference with new purpose, ideas and other tools that can assist them in their efforts to make a difference in their spheres of influence.
Speakers included Advocate Thulisile Madonsela the Public Protector of South Africa, Daryl Brown Motivational Speaker, Luvuyo Rani Founder of Silulo Ulutho Technologies, Professor Mamokgethi Phakeng Deputy Vice Chancellor of Research and Internationalisation, Emile Jansen Hip Hop Activist and Lead SA Western Cape Regional Hero 2016, Nkosinathi Biko published writer and speaker, Ruben Richards author, teacher, speaker, company director, Ian Fuhr Sorbet CEO, Sibonile Dube Corporate Affairs Director, Southern Africa (Including South Africa) & Central Africa, Unilever.
During the proceedings, the National Lead SA Hero of the Year and Youth Hero of the Year were awarded. These remarkable individuals continue to inspire the nation.Emile Jansen and Franck Leya were named this year's Heroes.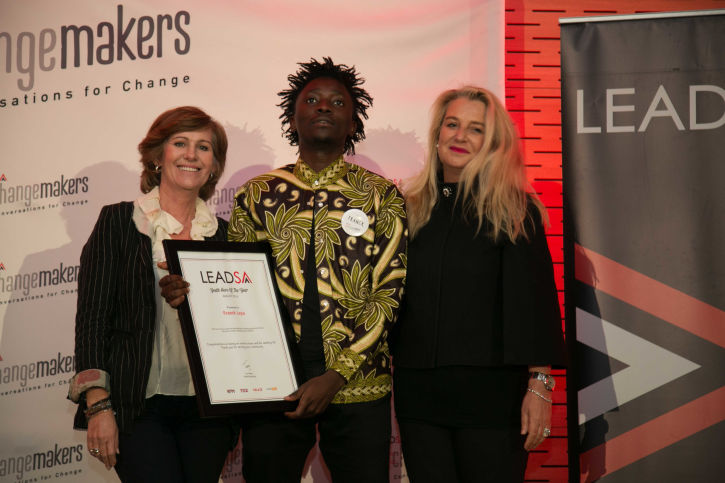 From left:Terry Volkwyn Primedia Broadcasting CEO and Lead SA Founder,Franck Leya Lead SA Youth Hero 2016 and Penny Stein,Dischem Foundation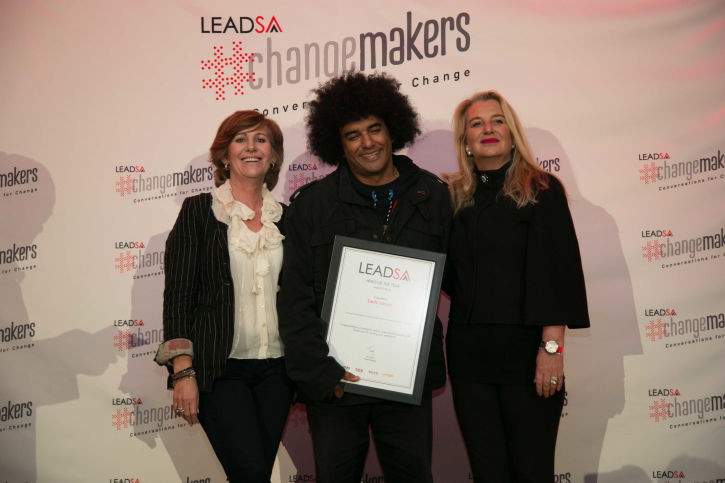 From left: Terry Volkwyn Primedia Broadcasting CEO and Lead SA Founder,Emile Jansen Lead SA Hero 2016 and Penny Stein Dischem Foundation.
The national and regional winners all received money to donate to charities of their choice. This year a certain amount from the R250 000 will be donated to the heroes for their personal use to acknowledge the work that they have done. In total the Dischem Foundation has donated R250 000 to the Lead SA Heroes campaign. The Dischem Foundation are active supporters of the Lead SA Heroes campaign enabling this generous donation.
Emile Jansen is one of the founding members of the Hip-Hop band, Black Noise. He was selected as our Lead SA Hero for harnessing his creativity to empower and inspire young people. He has dedicated his life to changing the lives of young people in the Cape Flats and since 1998 has impacted thousands of lives through his Heal the Hood project.
Franck Leya was named Lead SA Youth Hero of the Year 2016 in Gauteng for his involvement in the youth activism group called A Dollar and a Dream. Franck, along with a few others, speak to youth who are staying in safe houses, spreading messages of support that no matter where you come from, you should pick yourself up, keep going and you will become successful. The group works with children of all ages and by sharing stories and playing games they try and re-imagining the kids' futures with them.
These phenomenal individuals were awarded for their contribution to making the country a better place.