A cupful of opportunity: Lavazza & SPAR Bean Tree empower Deaf baristas
Through an industry-leading collaboration, premium coffee brand Lavazza and SPAR Bean Tree coffee shops are collectively committed to uplifting South Africa's Deaf community – by training and employing internationally-accredited coffee shop baristas through Ciro Coffee Academy (CCA). Both hearing and hearing-impaired coffee drinkers are now able to connect over a shared love of Lavazza coffee.
This initiative is made possible by CCA, of which the Lavazza Training Academy is a part in South Africa, and its Barista Upliftment Programme. As Lavazza clients, a select number of SPAR Bean Tree coffee shops now employ several CCA-trained Deaf baristas and offer specially designed Sign Language menus. These allow easy understanding between patrons and baristas.
"Deaf baristas – and the Sign Language menus that enable communication and facilitate ordering at SPAR Bean Tree coffee shops – have been well-received by customers, who get excellent coffee and warm, friendly service."

— Debbie Haswell, SPAR's group retail operations project manager.
CCA has strategically designed its various specialised coffee courses to accommodate Deaf barista training into their programmes. Trainee baristas are taken through the prestigious Speciality Coffee Association of Europe (SCAE) modules, which develop their skills on the history of coffee machines and the coffee-making process, customer engagement, grinding, extracting, milk-texturing, presenting and serving, and maintenance, to name a few. The St Vincent School for the Deaf and eDeaf are two organisations that assist CCA in recruiting candidates who wish to pursue a career in coffee.
After completion of their training, CCA also assists with the employment of Deaf barista graduates through its network of clients, including SPAR Bean Tree, to help them launch their careers.
This customer relationship, and the shared willingness to empower the disadvantaged youth of South Africa, brought SPAR Bean Tree on board to employ Deaf baristas, and to give them the opportunity to begin their careers in SPAR Bean Tree coffee shops.
"There are two SPAR Bean Tree offerings: a Café, for a sit-down restaurant experience, and an Express station that serves convenient coffee to go. In both instances, Deaf candidates can provide all of the services of hearing baristas, as long as they can communicate with their patrons."

— Nadine Jardim, Lavazza's marketing manager
One such Deaf barista is Thabo Albert Mokhele, 39, who completed his barista training at CCA and has served coffee fans at SPAR Bean Tree in Hobart, Bryanston, for over two years.
He loves his job, explaining that working as a Deaf person in the service industry isn't ay easier or harder than being a hearing person; it's simply more "interesting".
"Working at SPAR Bean Tree coffee shop is a wonderful experience. I am happy when I can serve a customer a hot cup of Lavazza coffee made with love."

— Nadine Jardim, Lavazza's marketing manager
His one piece of advice for ardent makers of the 'perfect' cup of coffee? It's all about accuracy, whether you are hearing or Deaf.
Thabo was also one of six talented Deaf baristas who recently competed in the first ever Deaf Barista Competition, held during the Coffee & Chocolate Show in July 2017. The six were required to prepare four cappuccinos in 10 minutes for a panel of esteemed judges, with Mduduzi Lukhuleni (of SPAR Bean Tree in Melville) being awarded the title of SA Deaf Barista Champion and R3000 in cash prizes.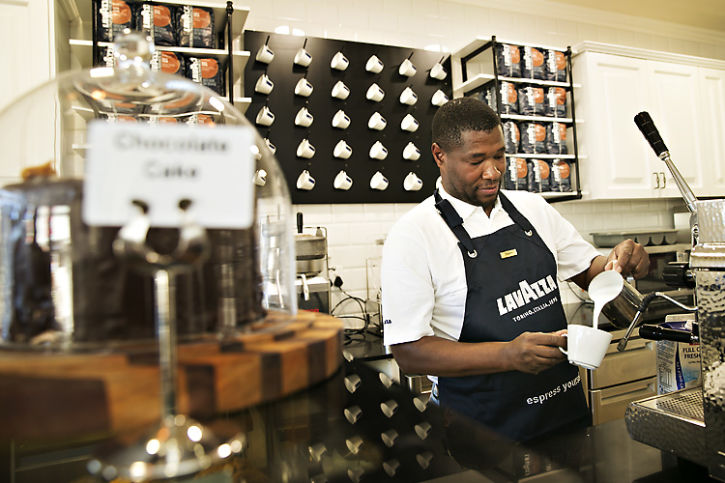 CCA is now offering a new Short Course in Barista Skills, an official NQF Level 4 certification available exclusively through UNISA, for both hearing and hearing-impaired candidates. As part of launching this programme, UNISA is sponsoring the enrolment of 30 Deaf candidate baristas. All that's needed is 30 stipends to the value of R2700 each, to assist candidates with expenses while undergoing training.
The sponsorship opportunity is open to the coffee community (contact Lani Snyman on lanis@ciro.co.za should you wish to become a sponsor), while those interested in enrolling in the training programme should contact Ciro Coffee Academy on their website: http://www.ciro.co.za/training/
Now, more than ever, the inspirational tip of SPAR Bean Tree's barista, Thabo Mokhele rings true:
"One piece of advice for young Deaf people would be: believe in yourself. Perseverance pays off."