Soul Buddyz and ChildLine Help kid in need of a wheelchair
On the 14th June, we were invited to Orefile primary school disabled learner, Ntando Bokveldt, was gifted with a motorized wheel chair, through the Fountain of Inspirations Organisation.
The donation was made possible by the Soul Buddyz program in association with ChildLine which allows children to join a Club called soul Buddyz in their schools and mobilize on issues that affect them. Ntando is one of the club member, and he and his other members put together an appeal to get him a motorized wheelchair.
ChildLine was able to be in contact with an non-profit organization called Fountain of inspiration who were able to provide the motorized wheelchair :
"We were told that this young man struggled to move around when he was using his old wheel chair rollator walker ( a wheel chair where a person can help themselves walk and sometimes be pushed around) without the help of his peers and educators and his old ."

— Zuneid, Fountains of Inspiration Founder
The school was in unity with Ntando singing praise songs for ChildLine and Fountain of inspiration with their Soul buddyz outfits. His parents were speechless and thankful for the opportunity to receive such a graceful gift and that their child has a supportive following which is his peers.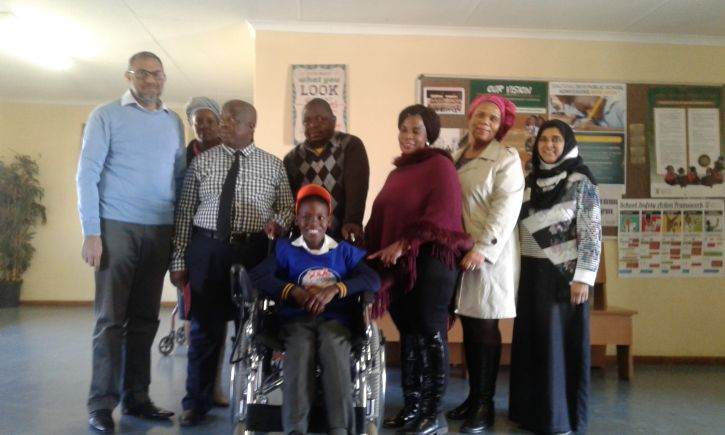 "Most of the time it was difficult to transport him from where we leave to town especially on weekends as I would have to push him while carry my other son to the taxi rank, but now having this electric wheelchair will help very much, I am so grateful and the fact that being in this club makes him so happy and in tune with his peers."

— Sisanda Bokveldt, Mother of Ntando
Find out more about ChildLine and Soul Buddyz
Written by Siya Matiso