Community Hours Invites you to #VolunteerWithVinGroovin at TLC Children's Home
Community Hours invites you to #VolunteerWithVinGroovin #2 together with the TLC Children's Home. VinGroovin loves babies and children. He cannot wait to share his care and love with all the babies and toddlers who call TLC their home.
"It is so important to volunteer, too often we focus on what we don't have, when we should be looking at all the things we do have. We need to be so grateful for all of our blessings and take the time to give a hand up to those who have a need in our communities" -

— DJ VinGroovin
TLC Children's Home in the south of Johannesburg was established by the Jarvis family in the early 1990's to meet the serious need for quality childcare for abandoned children in South Africa.
Since TLC rescued their first two little ones in April 1993, they have continued to play a part in changing the destiny of more than 800 babies who have been abandoned or orphaned, as our nation continues to be plagued by HIV-AIDS, unemployment and high crime levels. That in itself has been a great challenge for TLC, but they are dedicated to more than just saving babies. Their primary ethos at TLC is that "every child has the right to a loving and responsible family", this requires TLC to do more.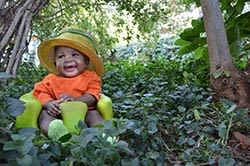 Working with the children is extremely rewarding. The giving of your time and love will leave a footprint on the lives of these babies and children, the sense of being loved and cared for at a time when they had no-one, and will ensure their future strength and success! The day at TLC Children's Home will consist of the following activities:
Face painting, play dough activities and colouring in with the children
Peeling and chopping of fruit and vegetables (butternut, carrots, potato, sweet potato, apples and pears) to make baby food
Scrapbooking the TLC Children's memories
A volunteer and children dance session with music from DJ VinGrooVin
Play time with the babies and children
Volunteers are required to wear comfortable clothing and shoes and dress warmly as we may spend some time outdoors.
Our wish list for this #VolunteerWithVinGroovin event is that you either bring:
Face paint, colouring in books and crayons, and play dough for our arts and crafts activities OR
A fruit and vegetable bag with butternut, carrots, potato, sweet potato, apples and pears in it
Join #VolunteerWithVinGroovin at TRC Children's Home this Saturday 09:00 - 12:00. To sign up contact
This event is limited to 40 volunteers! To book your spot email Melissa: Melissa@communityhourssa.co.za
Additionally, if volunteers would like to bring any previous loved baby items along, it will be gratefully received by TLC.
Find out more about Community Hours here and here.