Organisation in the Spotlight: the Anti-Racism Network of South Africa
The Anti-Racism Network of South Africa (ARNSA) is a alliance of organisations who are working to to respond to racism in South Africa. Launched in 2016 in response to a surge in public racist attacks, the alliance which is joined by over 60 civil society organisations, is growing from strength to strength daily.
Headed by the Ahmed Kathrada Foundation and the Nelson Mandela Foundation, ARNSA acts as a means by which the localised efforts of many organisations and individuals can gain support and multiply in effect across the country. It will be a structure where knowledge can be shared.
In the run up to Human Rights Day, ARNSA invites all living in South Africa to BE the change and #ConfrontRacism.
From 14-21 March we observe Anti-Racism Week, a time to reflect on our actions and words, and how we can work with others to achieve a race-free South Africa.
"We are calling on businesses, schools, government departments, sports teams, civil society organisations, universities, the media, trade unions, faith-based institutions and others to plan ahead for Anti-Racism Week. We want South Africans to think creatively around campaigns and programmes to tackle racism in their various sectors, and to allocate the necessary resources for it."

— Sean Moodley, ARNSA's national convenor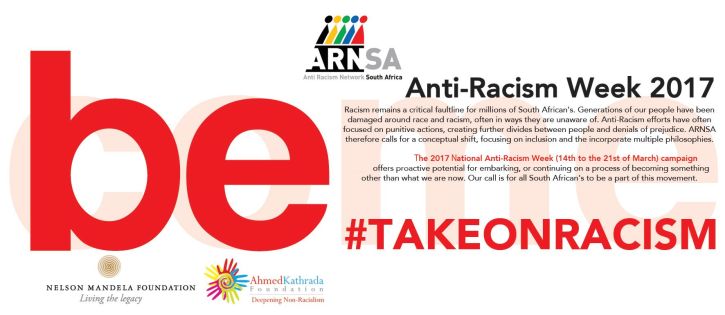 Visit the ARNSA Website and Facebook page to pledge your support and find out how you can get involved!