Young Capetonians strut their science stuff
Between the 29 -31 Aug 739 Capetonian scholars from Grade 6 to 12 from 52 schools will participate in the annual Cape Town Eskom Expo for Young Scientists.
The University of Cape Town (UCT) host the event in their Sports Centre.
The public are invited to meet the bright and innovative scholars during Public Viewing time: Wednesday 31 August 1.30-3pm. Entrance is free.
Winners will be announced on Wednesday between 3-5pm. Press are welcome to interview the director or scholars at any time during the 3 days.
Scholars submit their projects in one of 24 categories including Innovation and Technology, Energy, Health care and Sports Science, Plant sciences, Microbiology or Engineering. Entrants present a poster, journal and scientific report. During the judging process several judges interview the scholars.
The judges and the Cape Town Expo committee are volunteers giving their time to promote scientific innovation in Cape Town scholars.
Bronze, silver and gold medals are awarded at the event. Top performers in a field may receive surprising specialist awards. The best project will win a scholarship to CPUT worth R40 000. 29 Gold medalists may be chosen to represent Cape Town at the International Science Fair in Johannesburg in October; some may go on to represent SA overseas.
In 2015 Yolanda Nkala and Kholiswa Ntshinga from Khayelitsha presented their gold medal winning project on "Reducing mycotoxins in home grown umbona", which reduces oesophageal cancer in rural men, in Cape Town and then Johannesburg. They were chosen to represent SA in Beijing International Science Fair, where they won silver medals in the medical sciences category and a special award for Innovation in Agriculture. There are many such success stories.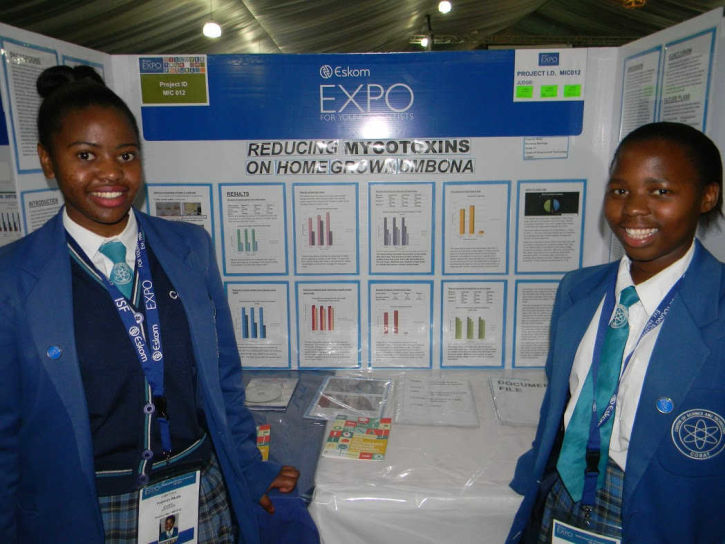 Expo is for people who are enthusiastic about finding solutions for today's challenges,

— Kholiswa Ntshinga
It ignites a young boy's and girl's passion for science.

— Kholiswa Ntshinga
Listen to interview with KFM's Ian Bredenkamp